BODYGUARDS VIP PROTECTION SERVICES
LOS ANGELES
FOR IMMEDIATE RESPONSE CALL
1 (866) 212-5276 or (310) 859-2700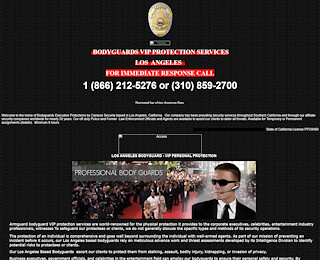 Since we started providing professional bodyguards, Los Angeles is a safer place in which to be. We are Bodyguards Executive Protections, and we have been providing professional personal protection for more than thirty years. In this time we have kept presidents, celebrities, CEOs, dignitaries and other people safe from all sorts of harm.
Search Security by sub-category
---
Send mail to webmaster@bodyguardslosangeles.net with questions or comments about this web site.
Copyright 2011 Armguard Security - Campus Security a Los Angeles Bodyguards Company.